John Deere Integration Instructions
Taranis is integrated by API with John Deere for the following services:
Import field boundaries
To integrate data into the Taranis Web App from John Deere you will need to do the following:

Go to
field data
and click on
import files
on the left side of the screen
Once the import files button is selected the page will redirect to the imported field data page. To upload field boundaries the user will select Import in the top right corner of the screen
After selecting the import button a box will appear that includes three different options of platforms for importing field data including
John Deere
and Import From Your Computer.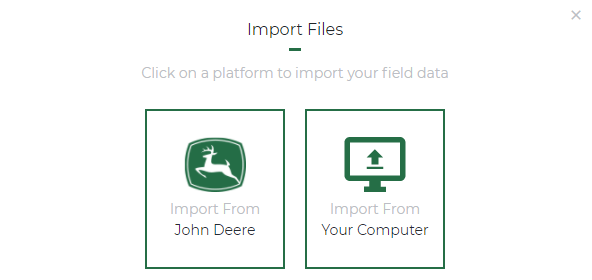 Once you click on either import from John Deere it will prompt you to a new webpage to fill in your login information for the platform you would like to import data from

Once connected you will then be able to integrate data from these systems into the Taranis web application.
Related Articles

Climate FieldView Integration Instructions

1. Open Taranis SmartScout web-application 2.In the upper right-hand corner of the screen click the user icon. This will open the user setting and profile page. 3. Navigate to the Settings tab and click Connect next to Climate FieldView 4. A ...

Integrations Overview & Roadmap

Integrations Overview Taranis SmartScout securely integrates with external systems, such as agronomy precision systems, retailer Enterprise Resource Planning (ERP) systems, Farm Management Software (MFS) systems, equipment and other systems via ...